Las Vegas Listing Services
Real Estate Has Changed...Most Brokers Have Not
To be successful in Las Vegas Real Estate, it's not important who YOU know. All that matters is "WHO KNOWS YOU." The Myers Team is a nationally recognized team. They are the industry leader when it comes to Real Estate Marketing on the Internet. The Myers Team has successfully sold more than $200 million in Las Vegas Real Estate.
In today's fast paced world, everything around us is changing. Nothing stays the same. Real Estate marketing is no exception. In Las Vegas, more than 50% of home buyers are coming from out of state, and even from other countries. Since 90% of today's home buyers begin their home search on the Internet, traditional Real Estate marketing strategies (i.e. Open House, Yard Signs, Flyers, etc.) have become outdated and ineffective. The Myers Team sells more homes than other Real Estate Brokers by using the most aggressive and effective online and offline marketing strategies available.
You are probably reading this web page because you found our web site on the internet. The Myers Team has the best online presence over any Brokerage in Las Vegas. In fact, we utilize social networking tools such as Facebook, Twitter and YouTube, and have a network of more than 50 Top Ranked Real Estate websites to promote our clients' listings on search engines throughout the Internet. No other Real Estate agent in Las Vegas has the knowledge or the ability to market your home like The Myers Team.
Nobody Finds Buyers Faster Than The Myers
With the majority of Las Vegas home buyers coming from out of state, why do most Realtors choose an advertising campaign that targets "local" buyers only? This is why all Myers Team listings are advertised with professional color photography and virtual tours on top real estate web sites such as Realtor.com, You Tube, Zillow, Yahoo, ActiveRain, Google, Trulia, Craig's List, AOL, etc. Internet marketing is more than 10X as effective as newspaper advertising and 30X as effective as homes magazine advertising to find home buyers. (*NAR Profile of Home Buyers and Sellers 2008.)
If all you are looking for is a sign in your yard and an MLS entry, then ANY agent will do. When you need to trust an industry leader to get the job done, schedule a meeting with The Myers Team. Don't trust the marketing of your home to a Realtor who relies on outdated and ineffective marketing methods.
Today's home sellers demand more and deserve higher standards when working with a real estate professional. Why use a Realtor who relies on fliers and a yard sign to attract buyers, when we will market your home on the Internet to buyers all over the world? How is an "Open House" going to attract a buyer from Toronto, New York or Hawaii? To get homes sold in this challenging market, an effective marketing plan must include a way for your home to be showcased visually on the top real estate web sites frequented by buyers. If 90% of todays home buyers search for homes on the Internet, then THIS IS WHERE YOUR HOME NEEDS TO BE.
When you're ready to sell, it's important to have an experienced Real Estate professional handle the details involved from listing to close. As experienced professionals who have helped many Las Vegas homeowners sell their home, we know how to handle every aspect of the sales process - from strategically marketing and showcasing your home to making sure everything's signed, sealed and delivered by the closing date. Our commitment to listening to the individual needs of our valued clientele and custom tailoring a plan to achieve personal goals is our number one priority. We practice the highest standards of excellence, honestly and professionalism. For the dedicated, focused and the individualized Las Vegas real estate service you deserve, feel free to contact us at your convenience. We look forward to serving your individual needs.
Our consistent application of cutting edge marketing strategies, responsive follow-up, and dynamic salesmanship continues to produce record breaking sales despite today's challenging real estate market. Our Internet marketing is so powerful, it's like having an Open House 24 hours a day...7 days a week. Demand Results. Demand The Myers Team
The Myers Team are Internet Marketing Experts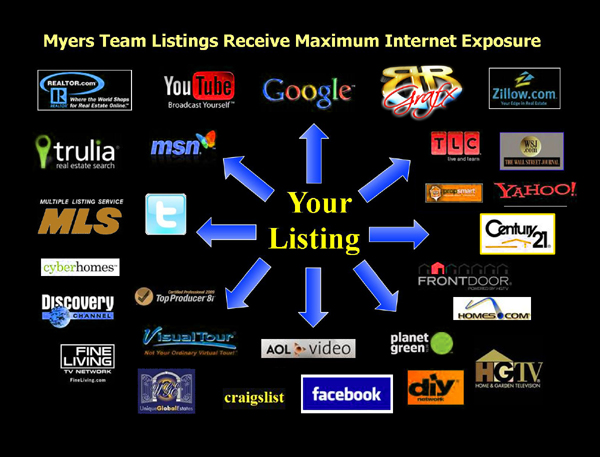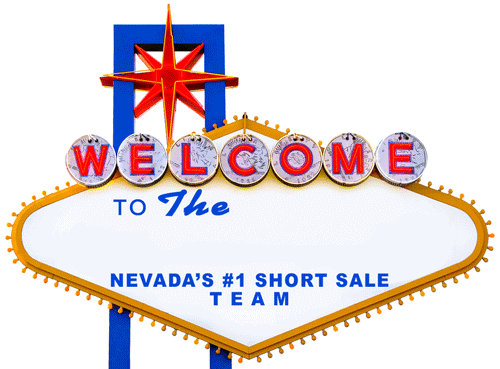 Myers Team Client Testimonials
OUTSTANDING JOB. The Myers Team did EVERYTHING they promised. After several months of unsuccessful negotiations with our bank, we hired The Myers Team and they were able to get our short sale approved. They were amazing. Their experience and professionalism got our family through a very difficult time. Thank you Bill and Francoise.
---Josh & Elaine Houseman
The Myers Team saved us from foreclosure. They STOPPED the bank from harassing us, and got our short sale approved!!! They DELIVERED on their promises, and made it happen.
---Burt and Sarah Johnson
After many frustrating months trying to modify our loan...we basically gave up and were prepared to walk away from our home. What a mistake that would have been. We met Bill and Francoise Myers and everything changed for the better. They convinced our bank (Bank of America) to approve our short sale. They provided HOPE to what appeared to be a "hopeless" situation. We are so pleased that Bill and Francoise were there to guide us through this difficult chapter of our lives. Thank you!!!
---Sonny and Rosanna Caputo
Bill and Francoise Myers are the BEST!!! They listened and provided support throughout the entire short sale process. They knew how to talk to the banks, and they got RESULTS! It's very nice to work with ethical and compassionate Realtors. Once Bill and Francoise took over, there was never a worry. Everything ran like clockwork.
---Frank and Regina Sosa
I do not know where to begin. The decision to "short sale" our home was the hardest decision we have ever made. This was our dream home. When my job at Yucca Mountain was eliminated, we could no longer afford to make our mortgage payment. Calling the banks was a huge mistake. They were "cold" and could care less about our situation. Loan modification was a complete waste of time. We called The Myers Team and the rest is history. They got our short sale approved, and were there for us during the most difficult and humiliating time of our lives. They treated us with respect, and listened to our concerns. I cannot thank Bill and Francoise enough.
---Michael and Carolyn Baker
The Myers Team were thorough and professional in every way. Without question, you are the best. Caliber Realty Group is fortunate to have you.
---Ralph and Jennifer Marolla
Francoise Myers is an ANGEL. We would recommend both Bill and Francoise to anyone who might be considering a short sale. They are knowledgeable, professional, and showed the highest level of integrity. Francoise was always accessable to us and kept us informed throughout the short sale process. Bill and Francoise set the standard for EXCELLENCE! I really don't know how they do it, and still have time to raise five beautiful children.
---Mr. & Mrs. Nick Steadman
Your guidance and knowledge of the short sale process proved to be right-on. We thank you for your professionalism.
---Dr. Karl Van Gils M.D.
Bill and Francoise have gone above and beyond their responsibilities as our Realtors. Banks are not nice. Banks only care about themselves. The loan modification process is a complete sham. HAFA is a joke. Bill and Francoise Myers were a "breath of fresh air"...after wasting many months dealing with our bank. Anyone who has tried to deal with a bank knows how worthless they are. Our experience with The Myers Team was WONDERFUL. Banks will not help you. The Myers Team will. Shame on JP Morgan and God Bless The Myers Team. Thanks Bill and Francoise
---Dominic & Yelena Czervik
When my husband was diagnosed with cancer, our family was devistated. The medical bills were too great a burden to bear. We had lost all hope, however, we were recommended to The Myers Team by our Oncologist. Bill and Francoise (Francie) came to our home, and answered all of our questions. They were compassionate, emphathetic, and very professional. They treated us with respect while our bank ignored our legitimate requests for help. They got our short sale approved, and even came to the hospital during some difficult times. I cannot thank Bill and Francoise enough. Working with The Myers Team was like having a guardian angel. My husband has since passed, however, I am confident to face the future thanks to Bill and Francoise Myers. They unchained me from my financial burden.
---Janice Rothstein
* #1 Status is based on production by non-lawyer affiliated Realtors and Brokers from January 1, 2007 through December 31, 2012. (listing ends only) The information provided is obtained from public records, it is deemed reliable but not guaranteed. The Myers Team does not guarantee that all home owners will be able to purchase a new home in one year or less. This will depend upon many factors, including your credit history before the short sale. Not all clients will qualify for a short sale. Not all clients will be eligible for the advertised services contained in this web site. Not everyone will qualify for Government assistance programs such as HAFA. Banks are not required to participate in the HAFA program. Restrictions apply. Nevada state law (NRS116.4109) requires sellers to provide and pay for a homeowners association resale package. If you live in a home with one or more HOA's, there may be state mandated fees required to comply with Nevada State Law, and homeowners will be required to provide a buyer with all CIC disclosures. The Myers Team are NOT lawyers, nor qualified to give legal advice of any nature. The Myers Team are NOT accountants, CPA's nor qualified to give tax advice. This web site is not intended to offer legal advice and all information contained in this web site is for information purposes only. All Myers Team clients are encouraged to seek the advice of a real estate attorney, and/or a qualified CPA. All of the information contained in this web site is subject to change. All site software, design, text, images, photographs, illustrations, audio clips, video clips, artwork, graphic material, or other copyrightable elements, and the selection and arrangements thereof, and trademarks, service marks and trade names (the "Material") are the property of The Myers Teamô and/or its subsidiaries, affiliates, assigns, licensors or other respective owners and are protected, without limitation, pursuant to U.S. and foreign copyright and trademark laws. The Myers Teamô hereby grants you a personal, non-exclusive, non-assignable and non-transferable license to use and display, for noncommercial and personal use only, one copy of any material and/or software that you may download from this Site, including, without limitation, any files, codes, audio or images incorporated in or generated by the software provided that you maintain all copyright and other notices contained in such Material. You agree not to reproduce, modify, create derivative works from, display, perform, publish, distribute, disseminate, broadcast or circulate any Material to any third party (including, without limitation, the display and distribution of the Material via a third party web site) without the express prior written consent of The Myers Teamô. Use of http://www.NevadaShortSaleInfo.com and/or http://www.VegasShortSaleInfo.com and/or http://lasvegaslist4less.com and/or its licensors' Material is only permitted with their express written permission. You further agree that you will not disassemble, decompile, reverse engineer or otherwise modify the Material. Any unauthorized or prohibited use may subject the offender to civil liability and criminal prosecution under applicable federal and state laws.